Annette Kim (in front, taking the photo) enjoying Bangkok with fellow interns and new friends.
Beyond Pad Thai and Elephants: My Journey Through Thailand as an Intern
By Annette Kim
,
Jan 3, 2023
Street food stands, standstill traffic, 7-Elevens, mega malls, Buddhist temples, and lots and lots of busy people—this is Bangkok, Thailand, where I had the privilege of serving for two months last summer as an MTW intern at Grace City Bangkok Church, under missionaries Trey and Kiki Adams. I am a student at Gordon College (a Christian liberal arts school in Massachusetts) studying elementary education and ESL. I'm a member of the Gordon tennis team as well as the college's Global Honors Scholars program. The Global Honors program provided me with a unique opportunity to participate in an international internship as a way to grow intellectually and spiritually for Christ-honoring leadership in a global context.
When I found the MTW internship in Thailand, I knew that this was where God wanted me to be. First, my mom grew up in Bangkok, so I have always wanted to visit and get a glimpse of her childhood. Second, this internship was looking for a collegiate tennis player to do ministry in the local tennis community. Third, I would have the opportunity to tap into my academic studies by doing children's ministry and English ministry with university students. God not only used my interests to draw me to Bangkok, but He had a bigger plan to use and grow me in ways that I could not have imagined. I can say with full confidence that God's hand was in this whole process, allowing me to be part of the work He is doing in Bangkok.
Over the two months I served in Bangkok, I learned so much and God used me and the other interns in amazing ways. I served on a team with three other college students: Jasmine, Katie, and Brooke. The four of us became the best of friends as we navigated the internship together. As a team, we taught Sunday school at Grace City, did children's ministry in a poor neighborhood, and helped lead VBS at Bangkok City Baptist Church, but our primary focus was on the campus ministry at Srinakharinwirot University. Almost every week, we would walk around the campus, making friends with university students.
New Friendships and Faith Conversations
We met two of our closest Thai friends, Yok and Prae, through campus ministry. On one of our first visits to SWU, when we were nervous about walking up to students and starting a conversation, we mustered up the courage to introduce ourselves to Yok. We ended up having a great first conversation: She and I connected over both being elementary education majors. The first time we hung out with Yok off-campus in Chinatown, she brought her childhood best friend, Prae, and all of us had a wonderful time that day. From then on, we all got together several more times for dinner.

Like the vast majority of Thai people, Yok and Prae are Buddhists. As we grew deeper in friendship, God gave me and the other interns the opportunity to share our testimonies with them. Crossing paths with Yok was a divine intervention because even before we arrived in Bangkok, we had been praying for good friends. Furthermore, Yok expressed her thankfulness to us for approaching her that day on campus because, at that time, she was very worried and insecure about her English, which she had to teach to her elementary students. She loved having new English-speaking friends with whom she could practice the language. God was so gracious in providing such sweet friends who even came to the airport at 11 p.m. on our last day to say goodbye.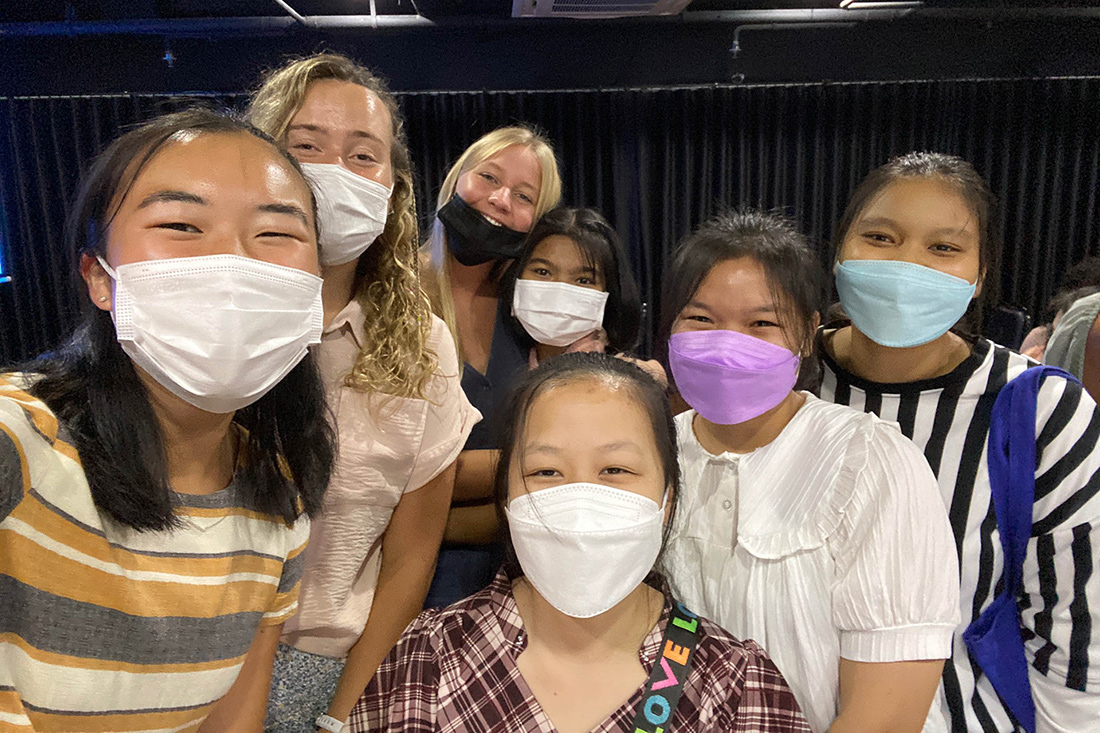 Reliance on God Through Prayer
Through this friendship, I experienced in my heart what I knew in my head that only God can save. Only when God opens the ears and softens the hearts of unbelievers can they receive salvation. I came to realize that neither my words nor my actions could save Yok or Prae. This leads to another truth that I learned in my heart, that prayer is the most important thing I can do for them as well as all unbelievers.
Prayer did not used to be my top priority when thinking about or interacting with unbelievers because I felt as though I had to do something rather than stop and pray. But at some point this summer, I recognized how utterly helpless I am without the power of God and that is when prayer went from being a last resort to an essential part of my ministry. 2 Corinthians 12:9 has comforted me recently: "But he said to me, 'My grace is sufficient for you, for my power is made perfect in weakness.' Therefore I will boast all the more gladly of my weaknesses, so that the power of Christ may rest upon me." When we were witnessing to Yok and Prae, there was no conversion moment, but I trust that God was and still is working in their hearts. Now that I am on the other side of the world, I feel especially thankful that the God of the universe hears my pleas for their salvation.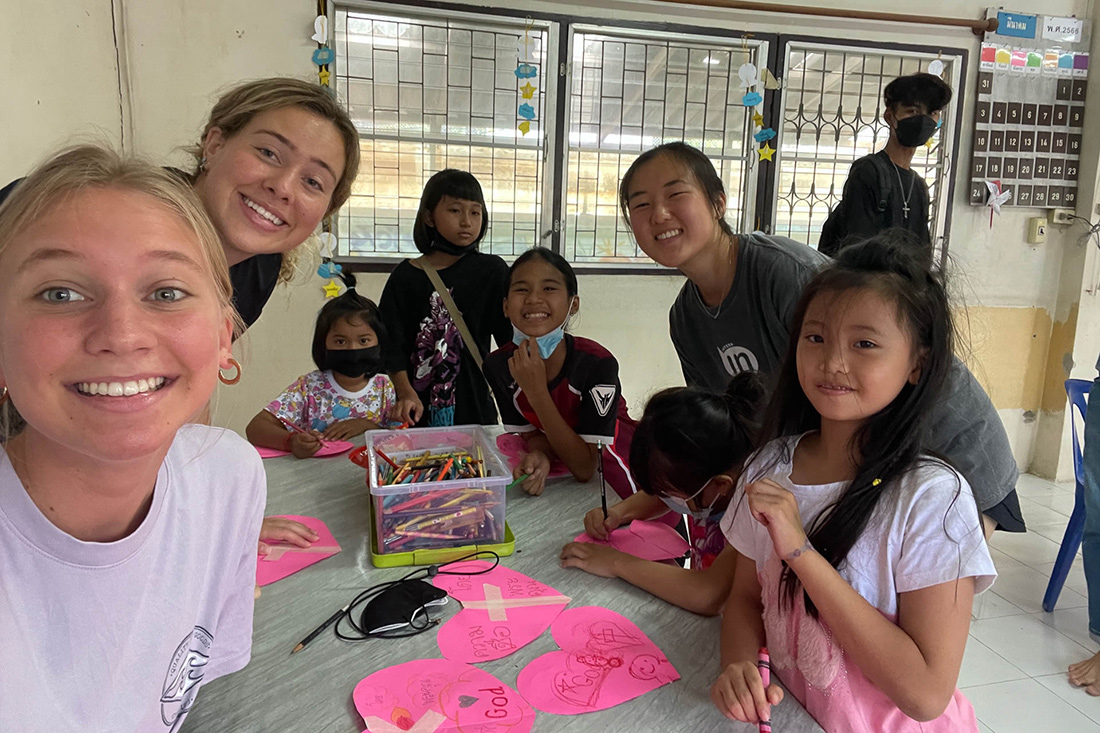 Watching the Faithfulness of Missionaries and Thai Church Members
The kind of strong faith that is the foundation for praying boldly was exemplified by the MTW Thailand missionaries (the Adams, the Nashes, the Stephens, the Mills, and Rachel Stugart). These people have shown me what it looks like to live a godly, obedient life that abounds in love and wholeheartedly trusts that God is moving in this city with so few Christians. The sacrifices that they make to be in Bangkok are immense, yet they lean on their calling to missions with faith that God has a purpose in placing them there.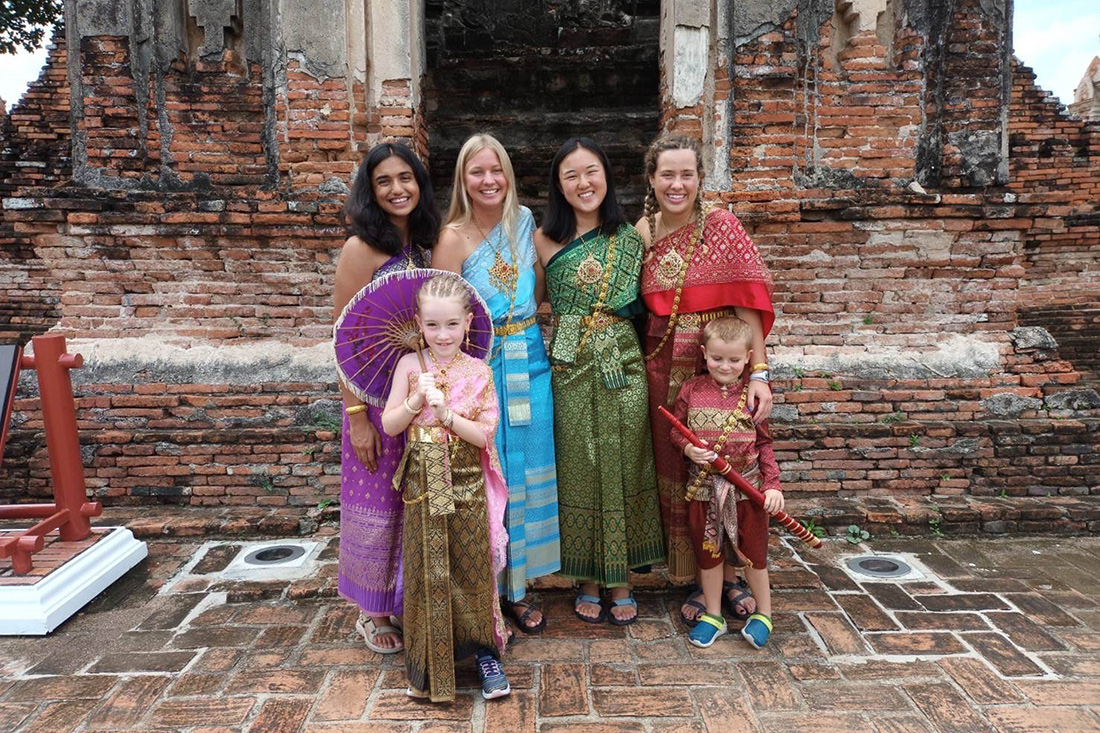 Furthermore, the members of Grace City, most of whom are Thai, have also served as models of the faith for me because of their resilience in following Christ in a culture that is so deeply rooted in Buddhism. Because there are so few believers in Bangkok, the church community truly feels like a family. They welcomed "the intern girls" so warmly and made us feel at home instantly. Seeing this sweet image of the body of Christ was encouraging and refreshing for me.
Being in Bangkok this summer and serving with Grace City has been the experience of a lifetime that I will never forget. It has made me desire to know God more deeply and also affirmed my passion for missions. I am incredibly thankful to God for revealing more of His heart to me. Unlike Buddha, our God is the God of creation, the God who strives after sinners, and the God who "gives more grace," as James 4:6 says.
Finally, I want to include a special thank you to all of my supporters for making this internship possible. In addition to the wonderful people I met, I will miss the delicious Thai food (particularly, the amazing combo of somtam, sticky rice, and fried chicken!), the night markets, the beautiful sites all across the country from the mountains in Chiang Mai to the clearwater beaches in Krabi, navigating through the bustling city of Bangkok, playing tennis in 100% humidity, close encounters with elephants and human-sized lizards, and the list goes on! If anyone is considering doing an internship, this is your call to go for it! God will not let you down.
Interested in a 2023 summer internship? Get started by January 20 at mtw.org/interns.
Hi there! We use cookies to help our website function properly and to understand how visitors interact with it so that we can keep making it better. By clicking "accept," you are saying this is okay with you. If you'd like to know more, please read our privacy policy.
Pray that God would draw college students to serve on internships this summer.
Pray for young believers growing in their faith in Bangkok, Thailand, and that many would be drawn into the church.
Pray for Tim Mills (Thailand), Abi Lowther & Roger Lowther (Japan), Joe Congdon (Japan), and Shannon Hinkle (Australia) as they all use their artistic gifts to support the Church in gospel outreach, mercy ministry, and community building.
As the Thai people grieve the loss of their king, pray that many would seek out the true King. Pray for MTW churches as they reach out in love to the Thai people.
Pray for those in Thailand who are resistant to the gospel because "to be Thai is to be Buddhist." Pray they'll see that they can embrace the gospel and still retain their culture.
Pray for women forced by poverty into sex work. Pray for MTW ministries around the globe seeking to rescue and minister to these women.
New believers are getting baptized! Pray for the growth of new Christians at Grace City in Bangkok, Thailand, and for those coming to faith and getting baptized.
Pray for a widower and pastor in Thailand trying to raise his young daughter, manage his air conditioning business, and pastor a church. Pray also for other national pastors who often struggle financially.
Pray for the women of Napada handbags, a business as mission venture of New City Fellowship in Bangkok, Thailand.
Pray for MTW interns preparing to go to the field this summer, and for God to prepare the hearts of people who will be impacted by their service.
SUBSCRIBE TO STORIES & MORE
Good news in your inbox, once per week. 1600 North Brown Rd
Lawrenceville, GA 30043
United States
1-678-823-0004
[email protected]
Donor-Advised Fund Portal
Circle Portal