Stuck in Germany by COVID-19 Lockdowns, a Muslim Man Comes to Christ
By Andrew Shaughnessy
,
Jul 7, 2020
When 2020 dawned, MTW missionaries Joe and Genevieve Blossom* were a mess. Their stress levels were high, their energy levels were low, and every indicator on their personal fuel gauges read "burnout approaching."
Being a cross-cultural missionary can be absurdly stressful, even in cosmopolitan Germany, where the Blossoms serve with a church plant focused on reaching out to immigrants and refugees.
"Our whole purpose in being here is to come alongside the people that God puts in our path as they're seeking Jesus," said Genevieve. "Especially among immigrants and refugees in Germany, there's a lot of openness, a lot of curiosity. We meet and talk with people regularly who have never met a Christian, and so it's really valuable, from our perspective, to have that "coming alongside" attitude, because then we're with people in it—in being newcomers to Germany, in trying to learn the language and figure out the culture. And we're also with them as they are sorting out what they believe about God."
Day by day, meal by meal, conversation by conversation, the Blossoms loved their neighbors well as "ordinary Christians."
And yet, being an "ordinary Christian" in a foreign country and a new culture is still difficult. After a few years, the stressors of team life and fast-paced ministry had worn them thin.
"At the end of February, we crashed," Joe admitted.
Something had to change. Joe and Genevieve needed God to show up.
And then, when they least expected it, God went to work.
Amir and Yousef
It all began with a simple act of hospitality.
When a new Christian from the Blossoms' church plant, a man named Amir, lost his apartment, Joe and Genevieve offered to let him live in the spare room in their basement.
"It took a lot of coaxing," said Genevieve. "Like, 'No really. It's ok. It's available to you. You're part of the family of God, and this is how we care for one another as God's family.'"
By early February, Amir had moved in. Not long after, he mentioned to Joe that his brother Yousef was visiting from the Middle East. A truck driver, Yousef was in town for work for just a few days.
"Would it be all right if he stayed here too?" Amir asked. "It might be a couple of days or a week."
"Sure," Joe replied.
That week, the Blossoms were scheduled to leave town for a conference. Just as they were loading up the car to leave, Yousef arrived. Joe and Genevieve greeted him and welcomed him into their home, and then they left. They were happy to help, but figured that they would never see Yousef again.
The conference was rough.
"We got sick," said Joe. "It took us an extra week to get home."
"It was terrible," Genevieve added.

Two weeks later—sick, tired, and near burnout—the Blossoms returned home.
"I pull in at our house," Joe narrated. "It's pretty late, 9:00 or 9:30. The kids are half-asleep. The car is trashed. And Amir comes out to help us unload the car. And as we're carrying some stuff in he tells me: "Oh hey, by the way, my brother is going to get baptized on Sunday!'"
Joe and Genevieve were floored.
An Unexpected Opportunity
As it turns out, in the two weeks they were gone, God had been working—fast—in Yousef's life. That first Sunday, Yousef had joined his brother at the church plant's weekly gathering and met the pastor. For the next two weeks, the pastor made a point of meeting with Yousef every other day to talk about Jesus, the Bible, and the gospel.
"Yousef was nominally Muslim," Joe explained. "He wasn't a practicing Muslim. He's just from a land where you're not allowed to not be Muslim. And he had been curious about Christianity before, and he had lots of questions about Jesus. I think he ended up reading all four gospels and huge parts of Isaiah before we got back—just soaking it up."
Though Yousef had expected to only be in town for a few days, issues with his company's paperwork had delayed him. Stuck in Germany, but feeling as though he could get a call to leave at any time, Yousef was driven by a feeling of urgency—this was his chance to learn about Jesus. As for the Blossoms' pastor: "This is his favorite thing in the world," Genevieve explained. "I mean, who wouldn't love it—sitting with someone so eager to learn about the gospel and with really good questions?"
By the time the Blossoms' returned, their pastor had led Yousef to Christ. Knowing that he was due to return to his home in the Middle East at any time, they sped up their baptism process (would Yousef ever have this chance again?).
"It was a Thursday that we got back," said Joe. "That Sunday he was baptized in our backyard, and we celebrated the Lord's supper with him."
Lockdown Discipleship
But Yousef's story wasn't over yet. The next week, the coronavirus lockdown started in Germany. Originally delayed by paperwork, now Yousef was prevented from leaving Germany by closing borders. Though American citizens abroad were typically offered emergency evacuation flights by American embassies, Yousef's government had not organized a similar service for its citizens. He was stuck living in the Blossoms' basement.
And yet, God's hand was here, too.
"We didn't really know when he was going to be leaving," said Joe. "So on Sundays during the lockdown our family and Amir and Yousef would have a meal together, and then we would have a little Bible study time."
The Blossoms spoke English and German. Amir spoke German and his native language. Yousef spoke his native language and English. And so, every week, a hilarious tri-lingual discussion of Scripture ensued.
Though he had planned on staying for only two or three days, Yousef ended up living with, and being discipled by, the Blossoms for two months before he was finally able to return home—a new believer.
For the Blossoms', teetering on the edge of burnout, the lockdown paradoxically offered them a chance to rest, to heal and catch their breath. Simultaneously, just as they were running out of steam, God put Yousef in their life. They were exhausted and hopeless, and still—through their simple act of hospitality—God acted.
"I'm amazed at what God was able to do," said Joe. "We were just … there."
"It's been a huge bright spot of encouragement," Genevieve added. "God's hand is at work. It's not us who are coordinating these things and making them happen, and that's such a lesson for us. Practically how we had been operating was: 'For God to work through us, we have to do this outreach, these plans, be there, do that, reach out.' Instead, we did absolutely nothing and now we have this eager new believer who we hope is going to be a strong force for the gospel."
Even amid their difficulties and the stress, their doubts and fears, God did something beautiful through the Blossoms' small steps of faithfulness. We pray that, too, He will work in and through Yousef.
*Names have been changed throughout for security reasons.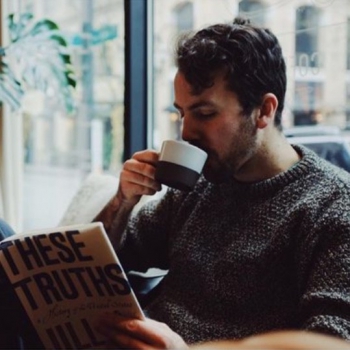 Andrew Shaughnessy is a long-time word slinger who spent nearly six years as MTW's staff writer, gathering and telling impact stories from missionaries across the globe. These days, he's off working as an analyst and editor in the publishing industry, writing fiction, and mountaineering. He holds a B.A. in history and English literature from Covenant College, and an M.S. in political science from Portland State University.
Hi there! We use cookies to help our website function properly and to understand how visitors interact with it so that we can keep making it better. By clicking "accept," you are saying this is okay with you. If you'd like to know more, please read our privacy policy.
SUBSCRIBE TO STORIES & MORE
Good news in your inbox, once per week. 1600 North Brown Rd
Lawrenceville, GA 30043
United States
1-678-823-0004
[email protected]
Donor-Advised Fund Portal
Circle Portal