A Historic Opportunity: How MTW Is Responding to the Refugee Crisis in Greece
By Andrew Shaughnessy
,
Dec 6, 2016
MTW Refugee Liaison Kay Burklin stood on the docks at Piraeus and watched the boats and the souls crash into Europe.
It was January then—the sea air frigid and sharp, the waves cold, lapping hungrily at the edges of ferries overfull with men, women, and children. Six thousand refugees landed in Greece that day: Syrians and Iraqis and Afghans and Iranians transported from Lesbos to the mainland by the government. The wars were behind them, nipping at their heels and haunting their sleep, the shelling and barrel bombs, cities and homes and dreams reduced to rubble, the long road of escape, smugglers, dust, and danger.
Everyone had hoped that, come winter, the ceaseless flow of refugees would stop. But it didn't. The wars still raged and the bombs still fell so the people kept right on coming.
According to the UNHCR (United Nations High Commission on Refugees), over 850,000 refugees, most of them fleeing violence or persecution in Syria, Iraq, or Afghanistan, reached Greece over the perilous Aegean route in 2015. Literally thousands of people took their chances on the sea every day. And every year, thousands died in the attempt.
The Greek Church stepped up
"Our family of churches was active from the beginning," said First Greek Evangelical Church of Athens pastor Giotis Kantartzis, who partners with the MTW Athens team in church-planting efforts. "First we cooked and distributed around 20,000 meals, especially when the need was greatest at the beginning of the crisis. Now, we are in the process of buying five apartments that will provide housing to vulnerable Syrian families. This will be a holistic program in which families from the church provide care for those Syrian refugee families. We also look for families from the states who are willing to help by financially adopting these refugees. We call the program Houses of Hope."
The other two churches in the Greek Evangelical network, Glyfada and Exarcheia, are intimately involved in responding to the refugee crisis as well. Glyfada pastor George Tolias volunteered on a daily basis at Ellinikon, the largest organized refugee camp in Greece, while his wife Phaedra leads a childcare program for kids in the camp. Glyfada also hopes to start a center housing a school for refugee kids and offering services such as counseling and trauma therapy.
"Our church in Exarcheia started and is running the Center of Hope in Victoria Square," Giotis added. "At one point thousands of refugees were living in the square. Now it's a meeting place. The Center of Hope is a day drop-in center for mothers and children. Two hundred to 300 people visit every day. Next to it we have also started a new place where showers and food are provided, and the church has the vision to open several apartments for both Greeks and refugees."
A simple cup of tea
"One afternoon I was in the Center of Hope," said Kay. "This lady had just gotten off one of those rickety boats, and she was just sitting there completely in shock. And I just stared at her—she was beautiful. She said: 'I thought my child was going to die.' And I handed her a cup of tea.
"That verse in Matthew 10 about handing someone a cup of water had never been so poignant," Kay added. "When you hand a cup to someone, it's very intimate. It's one on one, eyeball to eyeball, usually your fingers touch. These ladies who had escaped war and crossed the sea were sitting down and we were serving them. They probably felt like normal people for the first time in who knows how long.
"That's where you see the body of Christ comes in," she added. "What part are we going to play in this ministry of literally giving a cup of cold water in the name of Jesus?"
The scope and the individual
In 2015, global displacement hit a record high. According to an October 2016 UNCHR report, 65.3 million people, or one out of every 113 persons in the world, were displaced from their home by conflict. Of those, 21.3 million are refugees. Fifty-one percent of those are children.
When those kind of numbers start getting thrown around, it's easy to lose sight of the people behind the numbers. Dehumanizing a statistic is easy. Dehumanizing the terrified mother to whom you are handing a cup of tea, now that's more difficult.
The work being done by MTW and our partner churches in Greece: starting schools, cooking meals, renting rooms, providing showers and tea and friendship and a helping hand—these things are what "loving your neighbor" looks like in action. These are the things that churches are supposed to do for those in need around them.
Grounded in the gospel
"Church planting is an undergirding of these ministries," Kay said. "What we are doing as the Church is different than the YMCA, UNICEF, the Red Cross. Don't get me wrong, those are all wonderful organizations, but what the Church has is the gospel. At the same time, if you're telling people about Jesus and they're hungry, they're not going to listen. They're hungry. You've got to feed them. But if we're not telling them about eternity then we've kind of missed the mark. For the Church it's not an either/or. It's a both/and."
The opportunity the refugee crisis affords the Church is tremendous. We are smack-dab in the middle of a unique moment in history.
"I was combing this Afghan girl's hair on the stoop at the Center of Hope," Kay said. "She was getting a haircut from an Iranian former refugee, now a believer who lives in Cyprus. Inside were people from Syria, Iran, Iraq, Pakistan, and Afghanistan. The center was started by the Greek Evangelical Church, sanctioned by the UNHCR, and operated by a Danish humanitarian organization. And I'm an American combing this little girl's hair.
I remember looking at that and thinking: 'This is amazing. I have a front seat to a historic moment in missions. Why wouldn't you want to be involved in this?"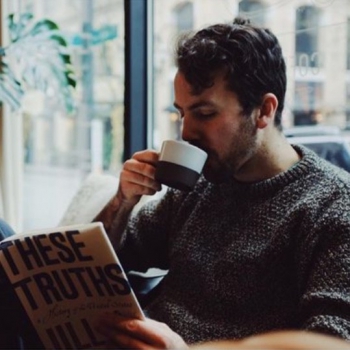 Andrew Shaughnessy is a long-time word slinger who spent nearly six years as MTW's staff writer, gathering and telling impact stories from missionaries across the globe. These days, he's off working as an analyst and editor in the publishing industry, writing fiction, and mountaineering. He holds a B.A. in history and English literature from Covenant College, and an M.S. in political science from Portland State University.
Hi there! We use cookies to help our website function properly and to understand how visitors interact with it so that we can keep making it better. By clicking "accept," you are saying this is okay with you. If you'd like to know more, please read our privacy policy.
Pray for refugees in Athens, Greece, as they overcome trauma and begin a new life. Pray, too, for the missionaries and church community ministering to them.
Pray for a small church in Athens, Greece that is reaching out to refugees with the love of Christ. Pray for the refugees there to hear the truth of the gospel.
Pray for ongoing work among refugees in Greece.
Pray for the people of Mati, Greece, who are responding with spiritual openness following disaster response efforts of the Greek Evangelical Church and MTW.
Pray for those impacted by the deadly wildfires in Greece. Pray also for wisdom as a team assesses how best to help.
Pray for the growing Business as Mission work through the Glyfada Church Plant in Athens, Greece.
Pray for effective discipleship and evangelism in the church plants in Athens, Greece.
Pray for the six church planters and the entire church-planting movement in Athens, Greece.
The First Greek Evangelical Church has planted a church in Exarchiea, the anarchist capital of Greece. Pray that God's presence would became known there.
Pray for college students to participate in global missions. Pray that they would a catch a vision for missions that would stay with them long term.
SUBSCRIBE TO STORIES & MORE
Good news in your inbox, once per week. 1600 North Brown Rd
Lawrenceville, GA 30043
United States
1-678-823-0004
[email protected]
Donor-Advised Fund Portal
Circle Portal