Do You See It? Learning to See Across Cultures
By Richard*
,
May 15, 2017
The West African national pastor walked confidently in a straight line across the open, bare field. There were no fences or markers that I could see, yet he told me we were walking right along the border of land to be purchased for a new training center.
Finally, I stopped and said, "Wait a minute! How do you know this is the boundary line of this property?"
My good friend stopped, looked at me, chuckled, and said, "Can't you see it?"
"No," I responded somewhat exasperated. "It's an empty field. There is nothing to see!"
"That is not true," he said. "You must have eyes that see it. You are not seeing correctly."
Then he began to open my eyes to see in a whole new way. He pointed to a few dried-out plants standing in a row about 20 feet ahead that we were headed toward. Then he pointed out we were walking straight toward them along a very slight, almost imperceptible ridge in the ground. And he pointed back to another short row of stubble behind us, also on the same ridge. Yes, now that he pointed it out I could see a sort of line, but what was it?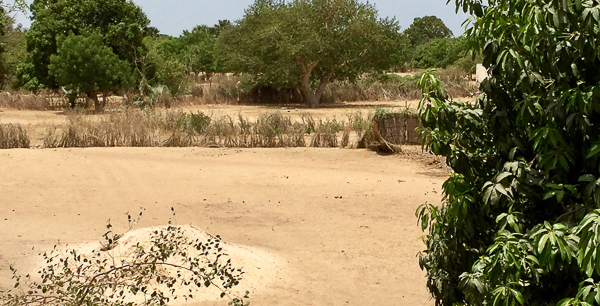 A living fence
It was what remained of a living fence that had marked the boundary of this land some time ago. A living fence is made by digging a trench and filling it with fresh-cut branches. Then the trench is filled in with dirt and watered heavily for a few weeks. Slowly, the branches begin to root and form a living fence line. In the picture below, the horizontal line of dry brush in the middle of the picture is an example of a living fence in the dry season.
Why use fresh cut branches? You can't use fence posts (no treated posts available here!) as we know them because they will be quickly destroyed by termites. But termites won't eat fresh branches or living plants and that makes a living fence very effective. And even after it dies out, it leaves a faint but discernable line in the soil—if you have eyes to see it.
My friend continued to educate my eyes. "Do you see that dark green tree there? Do you know what that means? It means there is good water on this land."
"Ah, yes," I said. "And that is the same kind of tree over there about 25 yards to the left, isn't it?"
"Yes," he responded. "Your eyesight is improving." Later my friend pointed out another kind of tree that means there is salt in the land, a common problem in this low delta region.
After walking further, he pointed to a bit of a mound of dirt and plant material. "Here is the corner. Can you see where we go from here?" It took a moment, but yes, there in the sun-parched soil, I could make out the faint boundary line. My friend chuckled again and said, "Very good. Soon we will make you into a good farmer."
The missionary's dilemma
It is one thing to look at a situation but it is quite another to see with understanding. It is one thing to hear what is spoken, it is another to listen with understanding.
This is the missionary's dilemma. We come to a new scene or situation in a culture we do not know and we look with western eyes. We try to associate what we see with what we know from our home culture. But often, we cannot see anything we understand. It is all too easy to conclude that there is nothing to see.
We need help to understand. We need new eyes to see correctly, new ears to hear. And that is one of the most difficult jobs of being a missionary. And it's no different when we're at home.
It's a challenge to listen to a neighbor from another culture or lifestyle or even a loved one. Ultimately, it is God-given compassion for the other person that motivates us to work hard at seeing and hearing with real understanding. Ultimately it is the Spirit of God who must give us new eyes and ears to do His work.
"That very day two of them were going to a village named Emmaus, about seven miles from Jerusalem, and they were talking with each other about all these things that had happened. While they were talking and discussing together, Jesus himself drew near and went with them. But their eyes were kept from recognizing him …
"So they drew near to the village to which they were going. He acted as if he were going farther, but they urged him strongly, saying, 'Stay with us, for it is toward evening and the day is now far spent.' So he went in to stay with them. When he was at table with them, he took the bread and blessed and broke it and gave it to them. And their eyes were opened, and they recognized him. And he vanished from their sight. — Luke 24:13-16 & 28-31 (ESV)
Lord, teach us to see.
*Last name withheld for security reasons.
Hi there! We use cookies to help our website function properly and to understand how visitors interact with it so that we can keep making it better. By clicking "accept," you are saying this is okay with you. If you'd like to know more, please read our privacy policy.
Pray for the girls home in Dakar, Senegal, where girls at risk of trafficking are given a home and an education, and most importantly, the hope of the gospel.
Pray for the newly formed RUF-G campus ministry in Senegal, for the university students, and the campus pastor in training.
Pray for God to draw students to Himself through the newly formed RUF-Global campus ministry in Dakar, Senegal.
Pray for the "Timothys" in Muslim-majority West Africa who are growing in their Christian faith and teaching others.
Pray for our single missionaries serving internationally in the midst of their unique struggles.
Pray for the missionary families who are getting kicked out of sensitive countries because of their Christian faith.
Pray for West Africa where extreme poverty is rampant and the class divide is vast. But where the gospel is also at work.
Pray for the girls living at the Presbyterian girls home in West Africa. Many of them are coming to faith and asking to be baptized!
Pray for missionaries and national believers to overcome the problem of dependency. Pray that God would raise up local believers to lead the church.
Pray for churches to grow in passion for unreached people groups and to mobilze members to give and serve.
SUBSCRIBE TO STORIES & MORE
Good news in your inbox, once per week. 1600 North Brown Rd
Lawrenceville, GA 30043
United States
1-678-823-0004
[email protected]
Donor-Advised Fund Portal
Circle Portal