Rebe McReynolds
MADAGASCAR
On the tiny island of Nosy Be, they meet together on grass mats under a mango tree. They sing songs from recently translated Scripture, sung with traditional harmonies and set to music by a local band of musicians. It has not always been this way. The Sakalava people customarily combine traditional African spirituality (where ancestors play an important part) with elements of folk Islam and Christianity. But in the villages here, a missionary team has been living for several years, committed to simple living, learning the language, translating Scripture, and reaching out to the community. And the Lord has blessed with a few new believers and the beginnings of a church plant.

Building on this foundation, we continue to help plant churches that are Christ-centered and biblical in their worship and distinctly Sakalava in their culture. "The Gatherings" under the mango trees continue, and together with "The Band," we are experiencing the joy of scattering gospel seeds.
MEET THE TEAM
McReynolds, Bryan & Rebe
Bryan and Rebe McReynolds work with MTW in Nosy Be, Madagascar ministering to the Sakalava, a native unreached people group.
MEET THE TEAM
Wiley, Caleb & Whitney
Caleb and Whitney Wiley are excited to serve in Nosy Be, Madagascar with the Sakalava Music Project, working alongside local musicians to record Sakalava worship music and story songs straight from newly translated Scripture.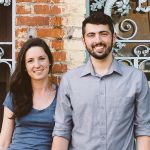 Register for a Free Account